Essential equipment
Once it's time to start weaning your baby onto solid foods, you need to have all the right kit! So what equipment is essential for getting started? Here's the lowdown from Cooking Babyfood.
Cooking and blending
To help you sail through the entire weaning process, you might want to consider a food processor with a steam cooking option. Steam cooking helps retain the nutritional qualities of the food, for a healthy diet. Fruit and vegetables retain their nutrients better when they are steam cooked! This is true of the Nutribaby(+) multi-purpose food processor, which has two separate cooking baskets to bring you as much goodness as possible from each type of food. What's more, it sterilises, heats, cooks, blends and defrosts. It has three blending speeds and a cooking water vessel so you can vary the texture of your purées (smooth, grainy or chunky) to suit each stage of the weaning process. And to make life easier, it has several automatic programmes so you can cook all types of food (meat, fish, fruit, vegetables, rice, pasta, cereals, etc.) at the right temperature and for exactly the right length of time!
If you're looking for XXL capacity, the Nutribaby(+) XL is made for you! It means you can prepare large quantities at once.
Are you familiar with batch cooking? The Nutribaby(+) XL helps you with this technique so you can prepare all your baby's meals for the week in just 2 hours! Brilliant!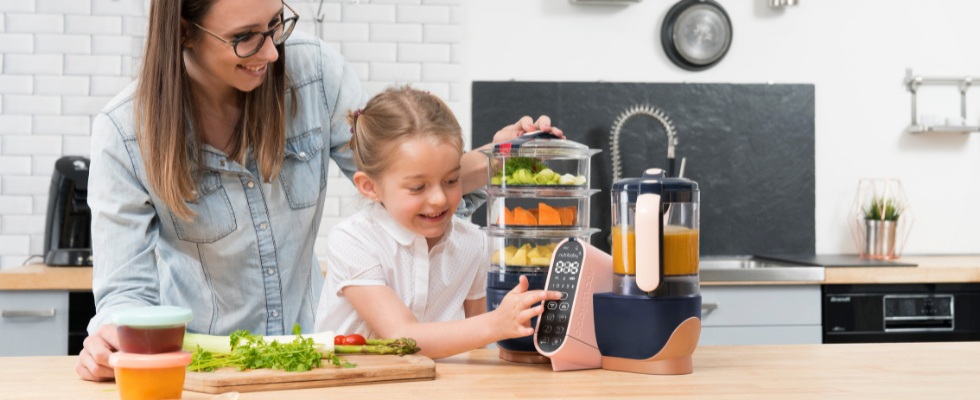 Preparing and storing
If you're having a go at batch cooking, you'll probably need to stock up on little tubs or jars! Imagine how much time you will save by preparing larger quantities of purées or compotes for your baby and keeping them for later! Go for glass jars if you can, as they are more sustainable and environmentally friendly. They help you store your food and retain the flavour. You can write details of the food and the date you made it on the lids, making them really easy to freeze.
If you're going out and about, an insulated food flask can make it easier to transport your baby's food and keep it warm. Snack boxes are also really practical for your little one's rumbling tummy in the afternoon!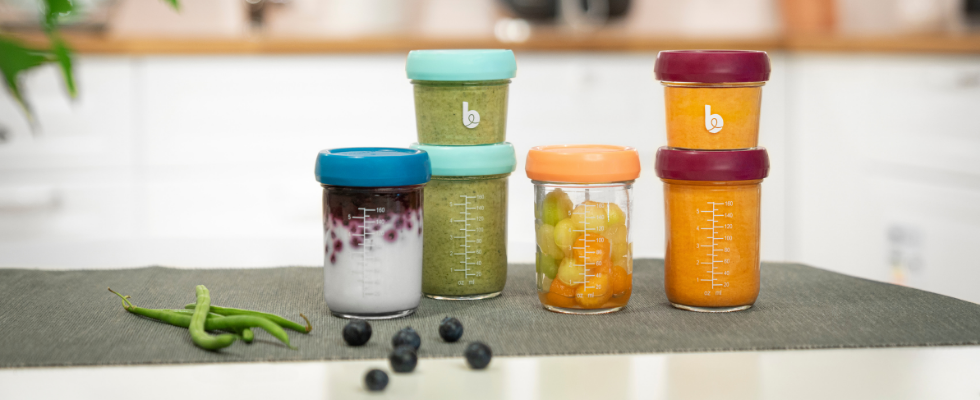 Eating at the table
High chair
It is important that your child is seated comfortably when you launch into the weaning process. To get started, you will need a sturdy high chair that's ideal for mealtimes. Some high chairs have a 2-in-1 function: playing and mealtimes. This solution is more economical and helps you save space in the dining room! You can also use it as a bouncer or high chair as your baby grows. Take the Slick high chair, for example. It can be used in bouncer mode from birth, and up to around the age of 3 for mealtimes.
Once your baby can sit up unaided, you can remove the newborn insert and use the padded seat on the chair. Your baby is completely safe in the Slick high chair with its 5-point harness. The footrest is height-adjustable (3 positions). It grows with your child for maximum comfort. Its tray is completely removable (no more feet getting stuck as you lift your child out of their chair). You can choose to open in to the right or left, or remove it entirely for washing or to make it easier to seat your baby.
The Slick high chair is designed to truly make life easier for new parents, ensuring your child can join in with everyday activities.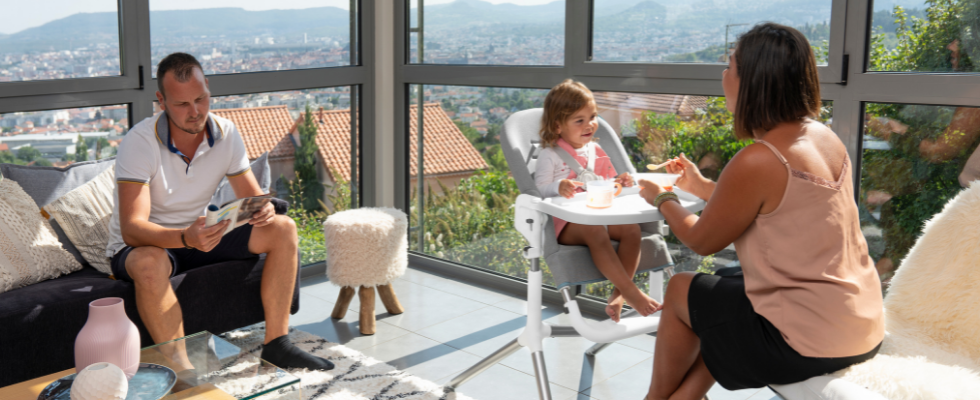 Tableware
You need to invest in some tableware for your baby to help them test out different foods and develop their little taste buds. Depending on their age, you will need to wade through a huge choice of tools before choosing ergonomic accessories to suit your child's motor skills and usage. Non-slip bowl and reusable pouches are really handy during the weaning process, as are non-slip bowls, ergonomic cutlery and placemats to colour in and keep baby entertained. Make sure you always choose products which are free from BPA and PVC. And finally, of course, you'll need a little pack of bibs to protect baby from splashes. Some bibs even come with long sleeves for maximum protection!