Avocado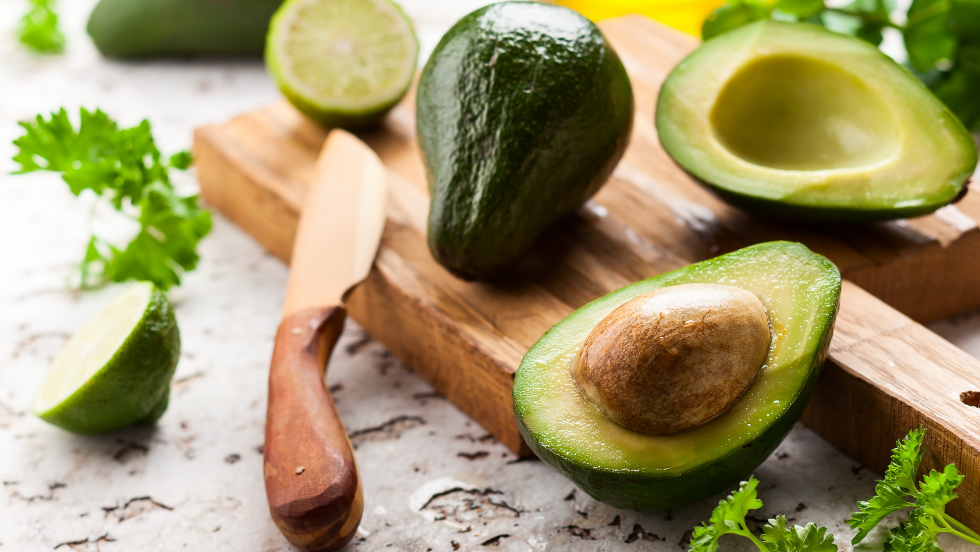 Avocado is often said to be a fruit with a high fat content, but think again! It is a fruit packed with fats that are good for health.
There are dozens of varieties of avocado, but the most commonly eaten ones are the Fuerte (shaped like a pear with thin, shiny skin) and the Hass (rough, black skin).
The advantages of avocado
Avocado is rich in essential fatty acids, composed more importantly of phytosterols. Present in large amounts in avocado (80 mg/100g), they help to lower cholesterol.
This fruit is rich in antioxidants: it helps to protect against heart disease.
Avocado is a great fruit to give to baby when varying his diet because of its pleasant, creamy texture and its delicious taste.
What's more, avocado is well known for its beneficial effects on the skin: an oil widely used in cosmetics and for massages is extracted from it.
Properties
Avocado is a fruit with a high fat content, these are mainly unsaturated fats, or to be more precise monounsaturated fats: they are comparable to healthy fats and provide a whole host of advantages for health (combating cholesterol and heart disease).
It also includes a wide range of vitamins and trace elements:
– provitamin A, vitamins B, C, E and K
– potassium, sodium, magnesium, calcium, iron, copper, phosphorous and manganese.
Helpful hints
An avocado continues to grow after being picked, so you should be really careful when buying one. Depending on when you plan to eat it, it should be neither too firm nor too ripe.
This fruit can be used in sweet or savoury dishes, either hot or cold, for example the legendary guacamole, dips, juice, etc.
Avocados can be kept for 5 days at room temperature and 2-3 days in the refrigerator. They can go into the freezer but will have to be puréed first (add a little lemon juice so they don't go brown).
Baby can start eating avocado from 12 months onwards; mash it well and serve with fruit (banana or apple), meat or fish.
Conclusion
Avocados are full of nutriments and have a wealth of advantages for baby's diet. Make sure, however, that your child isn't allergic to avocado