My first savoury tart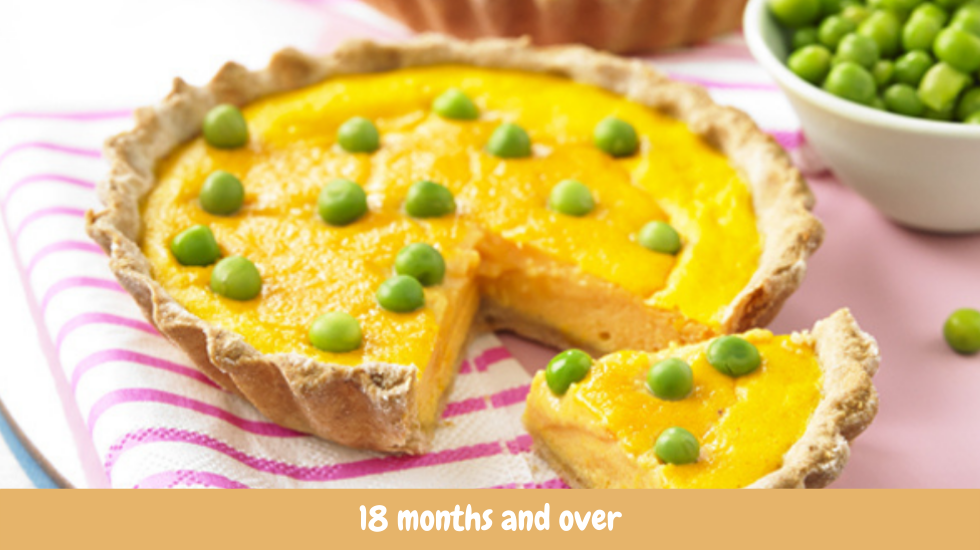 Ingredients
For the recipe
2 to 3 carrots (about 300 g / 0.661 lb / 10.582 oz of peeled carrots)
3 egg yolks
100 g / 0.22 lb / 3.527 oz of fromage blanc well drained in a colander
100 ml / 3.34 fl oz of single cream
3 tablespoons fresh or frozen peas
For the shortcrust pastry:, 250 g / 0.551 lb / 8.818 oz of flour
50 g / 0.11 lb / 1.764 oz of soft butter
50 ml / 1.67 fl oz of olive oil (about ten tablespoons)
50 ml / 1.67 fl oz of water
1 pinch salt
1 pinch sugar
1/2 teaspoon cinnamon
Recipe
Preparation Time: 2 x 20 minutes – Cooking Time: about 1 hour- Leave for: 1 hour
Step 1:
Sift the flour into a bowl and add all of the dry ingredients: salt, sugar, cinnamon and cumin, and mix. Add the butter in small pieces, with water and oil. Mix together using your fingers until you get a smooth paste.
Separate a small piece of dough for the baby's tart. Make two balls, a large and a small one. Flatten them after putting them under a sheet of saran wrap and let them rest for at least an hour in a cool place.
Step 2:
Preheat the oven to 180°C (gas mark 6). Grease and flour a baking tin with a diameter of approximately 25 cm and a single baking tin. Spread out the large ball of dough, wrap it around the rolling pin and then unroll it onto the tin. Repeat with the small ball.
Prick the dough with a fork and ​​precook on the bottom rack of the oven for 10-15 minutes.
Peel the carrots and cut them into slices. Steam cook them for 20 minutes, then add the peas when there are 10 minutes remaining. Cook the carrots until they are soft.
Put the carrots with the eggs and cream into the blender and mix. Pour the mix over the dough and put it in the oven at 150°C (gas mark 5) for about 30 minutes.
Be daring!
You can replace the pastry with a few sheets of filo pastry or crumble without sugar. For the filling, carrot goes well with butternut squash or pumpkin pulp and Japanese squash mixed together.