Tomatoes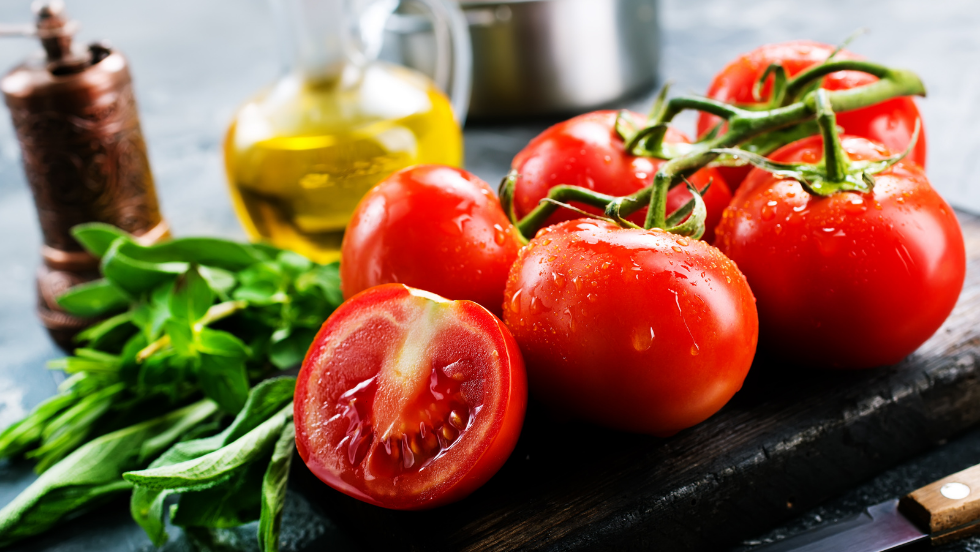 This week take a look at an article about tomatoes, a fruit with many assets.
The benefits of tomatoes
Tomatoes are easy to use: they can indeed be eaten raw (in a salad or starter) or cooked (in a soup, a cooked sauce or even jam). Moreover, some sweet varieties can be used to prepare sweet dishes or desserts. We recommend eating it with its skin because it contains a number of antioxidants that are essential for good intestinal balance.
It is low in proteins and sugar and therefore low in calories due to its high water content (over 90%). It is essential for the baby's diet!
Tomatoes are widely used in diets designed to stay fit or lose weight (well-balancing element). Moreover, when eating tomatoes, we get a slight protection against sun rays and skin ageing.
Properties
Tomatoes are vegetables that contain many nutrients and vitamins: Potassium, manganese, copper, B3, B6, C, E and K vitamin.
Several studies have shown that regular consumption of tomatoes may have a protective effect against cardiovascular diseases and certain forms of cancer, including prostate cancer. This protection is all the more active as this fruit is full of vitamin C, E and fibres effective in these areas.
Tips
Tomatoes will keep a week away from sunlight at room temperature and three days in the fridge if they are ripe. Tomatoes can be kept in a pot filled with oil (preferably olive oil to preserve flavours).
They can also be frozen: after blanching them, peeling them and leaving them to drain. If you find them difficult to digest, it is better to eat them without the skin and seeds – this also applies to the baby to keep its little intestines in good shape!
Tomatoes go well together with herbs, garlic, shallots, peppers and aubergines, as well as any kind of meat and fish.
Conclusion
To stay fit and get a good tan this summer, don't forget your tomatoes! Do not forget to incorporate tomatoes while preparing meals for the baby because is a delicious vegetable-fruit with many virtues. However, make sure your child is not allergic to it!