Cucumber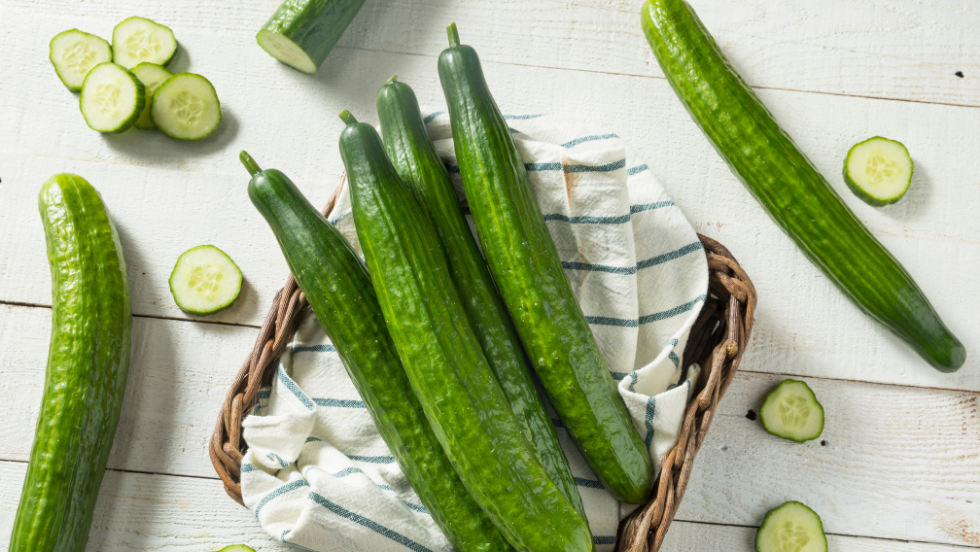 The advantages of cucumber
With a very low calorie content (less than 10kcal/100 g), cucumber also contains a lot of water (96%!) and minerals (particularly potassium). So it can be used to hydrate baby in the hot summer weather. Cucumber contains a variety of vitamins: A, all those in group B, C and E.
Lastly, and contrary to popular belief, cucumber is easily digestible thanks to the fibre it contains which helps keep you regular. Be careful, however, of the risk of irritation if baby's bowel is sensitive.
How to choose it?
Cucumber is available from May through to the end of July. When choosing a cucumber, go for one that's nice and green and firm, but not too firm because the harder it is, the more bitter it will be and the less baby will like it! It is advisable to avoid very large cucumbers as these contain lots of seeds.
How and when to prepare it?
You can offer cooked, blended cucumber once baby is 9 months old. You will have to wait until baby is 12 months old before he can eat it raw. It is of course recommended that you seek the advice of your paediatrician before introducing a new type of food.
Some people recommend sprinkling the cucumber with salt and leaving it to drain so as to reduce the bitterness. This solution makes the vegetable lose its precious vitamins. So it's better to remove the middle section which has the indigestible bitter seeds.
You can give baby recipes with cooked cucumber, in a soup, but also raw, either grated or sliced, in a salad. Cucumber is used a lot in the traditional Spanish chilled soup called gazpacho.
To add flavour to the somewhat bland taste of cucumber, you can season it with herbs, especially mint which goes very well with it.
Mums' best beauty friend:
Cucumber is not only recommended in baby's diet, but it can also be used as a natural beauty product for mums. Thanks to its refreshing, moisturizing, healing and cleansing properties, cucumber has all the assets to make your skin look beautiful.
For oily skin types: – mix cucumber with green clay, leave on for 15 minutes.– mix cucumber, egg white, lemon juice and mint, leave on for 15 – 30 minutes – put cucumber flesh only onto a wipe or a cotton cloth and place on your face for 15 minutes.
For dry skin types: mix the juice of a cucumber with plain yoghurt, leave on for 15 minutes.