How can I organise myself to make baby food jars for a week?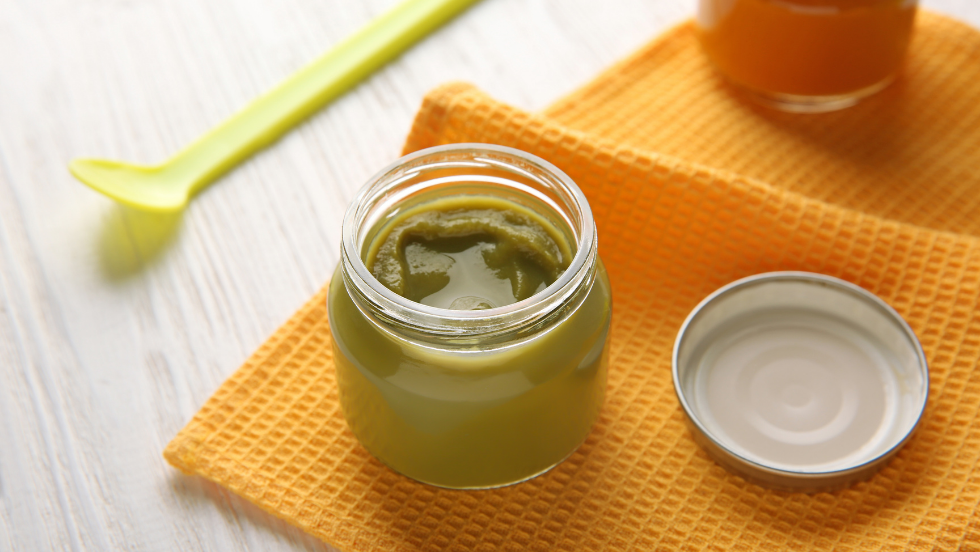 « Home-made food » does not mean being bound to the kitchen after a tiring day. You just need a morning – preferably over the weekend, in order to go to the market to shop for fruit and vegetables – to prepare your jars of baby food for the week ahead. A bit of creativity and some food safety rules will allow you to easily get there. Meeting up with friends at the market, listening to music or enjoying a drink with dad while cooking will soon be part of your lifestyle.
Getting organised
To prepare and store jars for the week ahead, we need small plastic containers with lids (glass Babybols, which contain silicone). They have the advantage of being able to preserve food in the fridge or freezer and then they warm up directly during steam cooking, so they can be served straight to the baby.
Small zipper bags are great to freeze fruit and vegetables that have been washed and cut, as they can be stacked on top of each other and so take up less space if you have a small freezer compartment.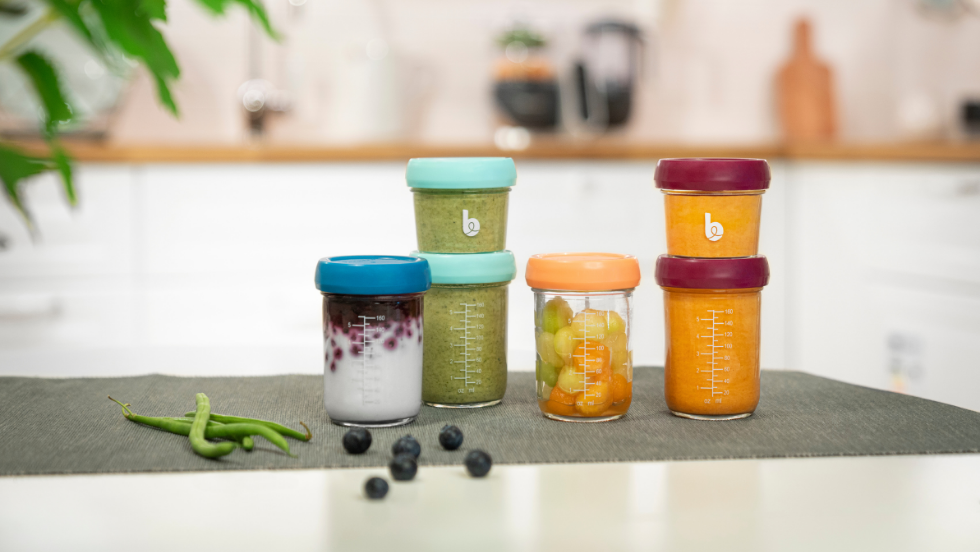 Shopping
Street markets are a great opportunity to buy fruit and vegetables in season from local farmers, along with fresh eggs, poultry or fish at good value for money. You can do the rest of our shopping at the supermarket and get dairy products, butter, flour, sugar or honey, etc.
Food safety rules
Vegetable or fruit purées can stay in the fridge for up to 2 to 3 days. For jars of home-made food with animal protein such as fish or meat, it is best to store it for a maximum of 24 hours. Regardless of how long the food is stored for, it is best to trust your nose and, if in doubt, taste the food before giving it to the baby. To store food for more than 2 or 3 days, you can freeze it and this applies to any kind of food (even dairy products). Freezing food has the benefit of preserving vitamins and colour.
Home-made baby food vs industrial baby food
The transition from baby milk to solid food is the right time to get to know your little eater. On a daily basis, gradually adding compotes or purées to its bottle of baby milk or adding small bits of food to its meals will tell you whether the baby is ready to get used to changes in texture or to chew. You are in charge of how it learns to eat and perceive food and industrial baby food bears no comparison to the freshness and taste of your purées and compotes.
While cooking, the baby can look at whole carrots, smell fish filet or hear the water running on the fruit you are washing. This helps it learn about food right from a very young age.
In terms of sustainability, the jars of baby food are very eco-friendly as they are recyclable and do not have unnecessary packaging.
A bit of flavour
A knob of butter or a dash of olive oil add a good smell and enhance flavours, as fats are conductive. Likewise, adding seasoning such as rosemary, thyme or cinnamon when cooking your fruit and vegetables or blending a sprig of parsley or chervil together with your purée enhances the flavour of the meal and makes the baby happy.
Planning home-made baby food jars for a week
For a week of 15 jars of home-made food, feel free to make food that differs in colour and taste.
However, here are some tips:
– When cooking vegetables bought from the market, put them on separate levels in your multifunction food processor. This makes it easier to mix the various kinds of vegetables in the blender to create different purées.
– For sweet food, alternate with several kinds of fruit to vary the colours between red raspberries, yellow peaches and green apples, etc. The jars of home-made food can be stored at least 3 to 4 days in the fridge in airtight jars.
– Another method is peeling, cutting and freezing fruit and vegetables in several portions in advance. This makes it very quick to cook and blend a purée for the baby just before its meal.
– Preferably add meat, fish or dairy products when serving the meal. You can take a small amount from your meal or freeze portions suitable for the baby.