Introducing sweet spices, herbs and condiments in the baby's diet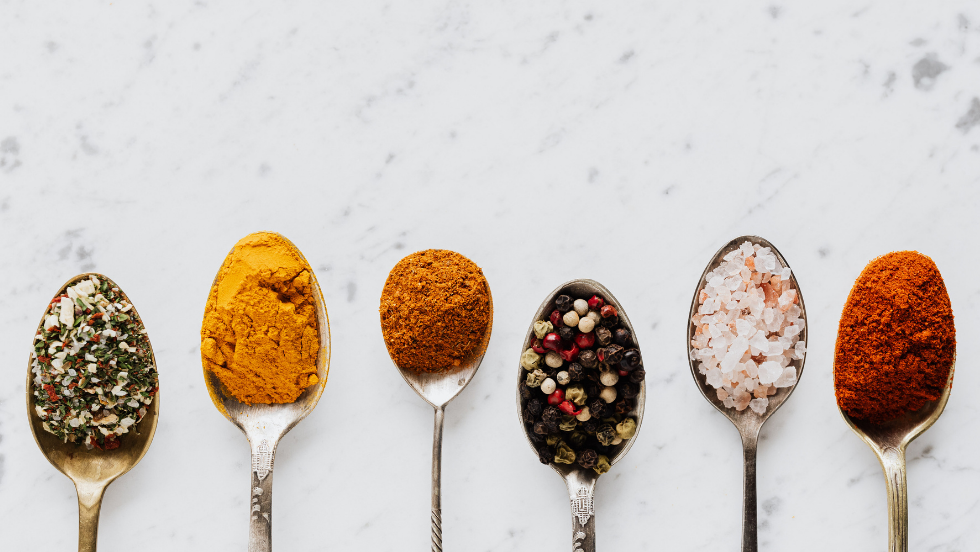 Weaning the baby onto solid food is full of concerns and precautions. It is certainly important to follow the development of baby's body and introduce new food only in relation to its nutritional needs and digestive capacity.
Spices, herbs and condiments deserve the attention of any young mother, as in addition to the beneficial properties they provide, their flavours and colours cheerfully contribute to making meal time a fun time.
How should I choose them?
For the baby, only choose spices that are not hot, like turmeric, anise, cinnamon, vanilla. Basil, parsley, dill or chervil go well, amongst other things, with vegetable purées. While herbs like thyme, rosemary and bay leaf bring flavour to marinades and stews.
Onions, garlic and shallots can be introduced cooked around the 8th month because their taste qualities are not to be overlooked in home-made food.
When should I introduce them?
Gradually, the addition of a 'fine herbe' or a pinch of spice will improve the recipe and its flavour from the 6th month onwards.
However, it is still interesting to first let the baby taste the pure flavour of food introduced one by one so that baby has its points of reference.
The virtues
In addition to the flavour they bring to stews from 1 year onwards, most condiments like thyme, rosemary and bay leaf have disinfectant properties. That is why, for instance, a bay leaf used to be added to vegetable soup.
'Fines herbes' such as basil, parsley, dill and chervil will refresh, add a stronger flavour to vegetable purées from the 5th or 6th month, according to the rhythm of how the baby is weaned onto solid food.
Around the 10th month, vanilla and cinnamon will gently add flavour to desserts and are known for their stimulating effect and for being easy to digest.
Recipes with spices
With the introduction of meat from the 7th month, chicken can be marinated with a few drops of lemon and basil leaves, lamb with rosemary and a pinch of ras el hanout.
Thyme or mint go well with courgettes, aubergines and tomatoes. Cook the food with the leaves and remove before blending, it adds flavour.
Add a pinch of cinnamon powder or a piece of cinnamon stick to plum compotes and 2 cm of a vanilla pod or a pinch of sugar with natural vanilla to apple or pear compotes.
From the 8 months, you can chop chives or chervil leaves to present the purées to the baby.
Don't forget
Strong and hot spices are absolutely forbidden. Sweet spices, condiments and 'fines herbes' offer tasty, colourful food that is beneficial to the baby.