Pears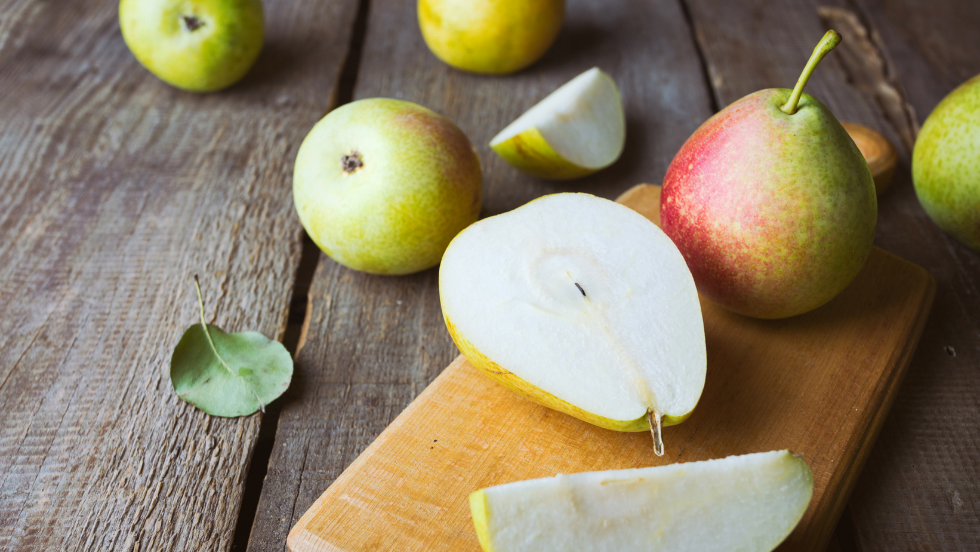 Deliciously sweet and rich in vitamins and minerals, pears are usually one of the first fruits introduced into the baby's diet. Let's take a look at why they are an ally in the baby's meals, how to choose them properly and finally some recipe ideas to prepare them well.
The benefits of pears
Rich in vitamin C and E, pears are an excellent fruit to introduce in your child's diet. They also contain a lot of water and can have a refreshing effect, as well as being a source of potassium, calcium and magnesium, all important for the proper development of the baby. Folic acid, commonly known as vitamin B9 will allow for a proper development of the nervous system.
Pears contain fibres that allow for good bowel movements and avoid the risk of constipation. Beware though of pear nectar (as well as apple nectar), which can cause chronic diarrhoea if eaten in large amounts.
Finally, pears contain carbohydrates, including fructose and sorbitol, which also help digestion.
How can I choose them and store them properly?
There are many varieties of pears. The most cultivated and eaten pear variety in the world are Williams pears, found on supermarket shelves from August to November. When autumn arrives and until winter, you can opt for Conference, Beurre Hardy or Passe-Crassane pears.
Summer pears should be soft and heavy, while buy winter ones while they are still green and firm to ripen them thanks to the cold environment in the fridge.
Ripe pears will keep for a day or two and need to be eaten quickly.
Tip: to stop the oxidation process that darkens most fruits, do not hesitate to dampen them with a few drops of lemon.
When and how should I prepare them?
Pears can be one of the first fruits the baby will eat when it is weaned onto solid food, that is starting from when it is 6 months old.
Like all fruits, start by offering cooked pears and wait until the baby is 1 year old before offering raw pears.
Then do not hesitate to mix them with other fruits: a banana and pear compote or an even more exotic combination, pear and pineapple. Many spices / seasonings can also bring out the flavour of pears like cinnamon, vanilla, ginger or honey, mint, etc.
Discover all our pear recipes!