Pumpkins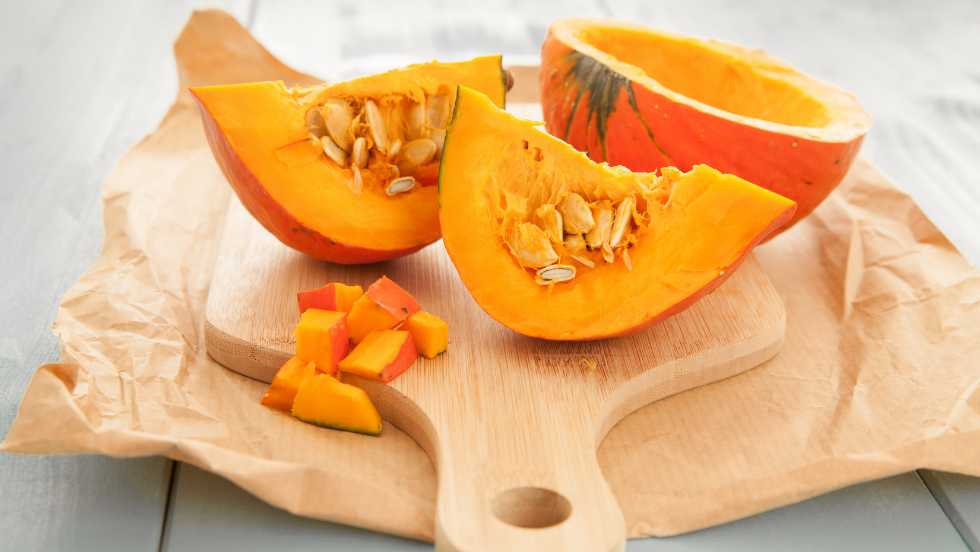 The advantages of pumpkin:
Although the tradition of Halloween is not necessarily all the rage in France, it has helped to bring the pumpkin and its acolytes, the pumpkin and the pumpkin, back to the forefront. Once the tedious stage of peeling is over, pumpkin can be used to make creamy, comforting soups for cold autumn and winter evenings. In addition, pumpkins can be stored whole for several months, provided they are stored in a well-ventilated room at a temperature of between 10 and 20°C. It is therefore an attractive decorative asset for your fruit and vegetable basket!
Properties:
The pumpkin, like the pumpkin, is a squash, a vegetable plant of the cucurbit family and therefore rich in water. It contains beta-carotene, which contributes largely to its orange colour to the tune of ¾ of what is in the carrot. In addition to being a source of vitamin A for the body, beta-carotene is also said to have an antioxidant effect. It could improve certain functions of the immune system of babies and older children. It could be a protective factor against hyperglycaemia (by regulating blood sugar levels).
Tips:
Pumpkin, like other members of the squash family, tends to give baby gas. Cook it with potato, carrot and a little cream to make it more digestible. You can also use it to sweeten strong-tasting meats.
In conclusion:
Use pumpkin for its slightly sweet taste, which allows a smooth introduction to diversification. Don't hesitate to steam it, he loves it! You can then fry it lightly in olive oil and cut it into small pieces for baby. You'll see it's surprising, it's a bit different from carrots with the same festive colour.