10 reasons why you should choose Nutribaby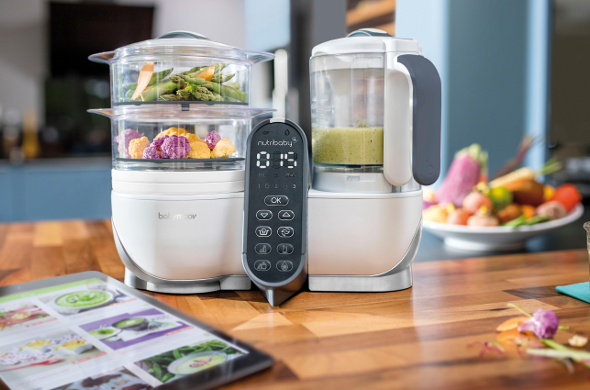 Nutribaby is the first food processor that makes real gourmet baby food! Indeed, for parents who want to give their babies quality food when they wean them onto solid food, Babymoov's food processor proves to be a valuable asset.
But why Nutribaby? What are its qualities, its strengths? Here are 10 reasons why you should choose Nutribaby!
1 – You can use it right from when the baby is born
Nutribaby allows you to warm up to 3 baby bottles at a time. You can also use the food processor to sterilise them afterwards.
2 – 5-in-1: the most complete food processor
Nutribaby cooks any kind of food: vegetables, fruit, meat, fish and eggs. It also allows you to heat up food or baby food jars prepared in advance. It defrosts frozen food. Finally, it can blend any kind of food.
3 – The biggest capacity on the market
The 2 cooking compartments of the mixing bowl (1500 ml and 900 ml) make Nutribaby the food processor with the biggest capacity on the market.
4 – It can be used for the whole family
Thanks to its extensive capacity, you can cook tasty meals for the whole family while cooking for the baby as well.
5 – Automatic cooking
Set the right cooking time via the LCD screen: that's all you need to do, Nutribaby stops automatically when the time is up.
6 – Real gourmet baby food!
Nutribaby preserves nutrients by steam cooking food. Its 2 baskets allow you to cook food separately, so you can cook it for the required amount of time without mixing flavours. And thanks to its container used to recover stock, you can add it to your purées, soups or compotes, thereby preserving valuable vitamins!
7 – Easy to take care of
Nutribaby's parts are easy to clean as they are dishwasher-safe. Moreover, you can remove the part used for cooking food to make it even easier to clean.
 8 – Safe materials
Nutribaby employs safe materials and we guarantee it does not contain bisphenol A nor phthalates.
9 – Lifetime warranty
Like all Babymoov products, Nutribaby comes with a Lifetime warranty (which needs to be activated within 2 months of buying the product)
10 – Babymoov at your side
With your Nutribaby, you will be able to cook tasty meals for your baby! This is why Babymoov decided to support you even more with this blog « Cooking baby food« , where we share ideas for recipes for any age. You will also find some advice to help you wean your baby onto food.