Cherries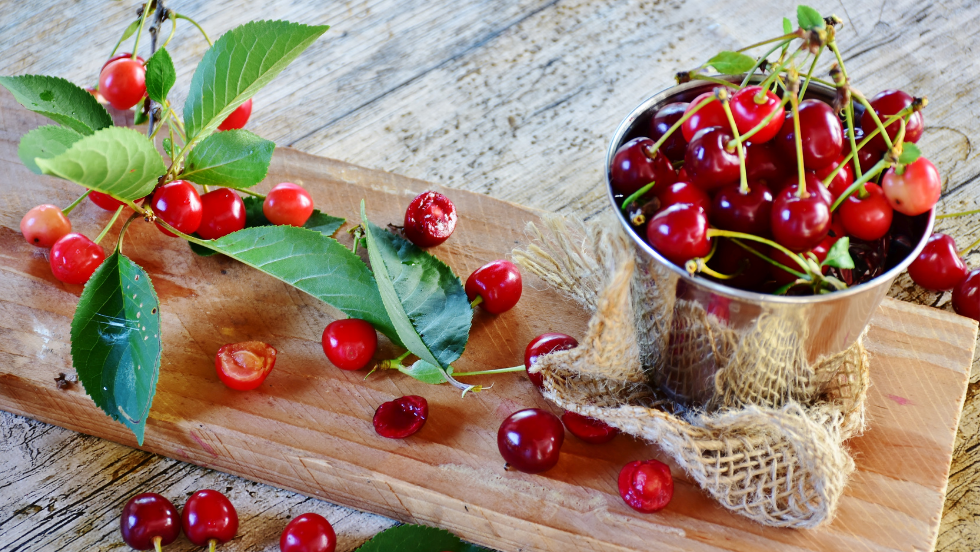 You know summer is upon us when cherries come into season… Well, this week we decided to honour cherries.
Cherries are the most popular red fruit after strawberries. There are many varieties of cherries, from light to yellow and dark red.
The benefits of cherries
Cherries are a little sweeter and have more calories than other red fruits. However, if their energy is used gradually, they allow us to avoid snacking.
So-called « acid » varieties (Morello cherries) are less sweet and therefore have fewer calories. Diabetics and weight-conscious people can therefore eat them because they provide lots of energy, though one still needs to be very careful not to eat too many.
A US study showed that cherry juice can prevent plaque from forming, which leads to tooth decay, and thus it could have an antibacterial role.
Properties
Cherries are fruits rich in water and micro-nutrients:
– vitamin A, vitamin C and beta-carotene
– potassium, copper, iron, manganese
Their fibres can ensure a healthy digestive system, which is very important for your baby!
Tips
It is best to choose fresh cherries with smooth and shiny skin: they are juicier.
Cherries can be kept in the fridge for up to one week. Keep them away from foods with a strong smell. You can also freeze them: wash them first, let them dry and put them in a freezer bag (with or without the pit).
From the more acid (Morello cherries) to sweeter varieties, there are different ways of cooking cherries: the famous cherry clafoutis, cakes and jams, as well as fruit salads.
Cherries also work very well in sweet and savoury mixtures as in this recipe for Duck breast with cherries.
Your baby can eat (pitted) cherries from 9 months onwards. First check that the baby is not allergic to them.
Conclusion
Cherries are fruits rich in vitamins and oligo-elements that are essential to ensure good health in summer. However, there are some cross-reactions between some foods and pollen. Therefore avoid giving cherries to you baby if it is allergic to them.