9 December 2013
by Mamanchef
Preparation time
15 mn
Cook Time
20 mn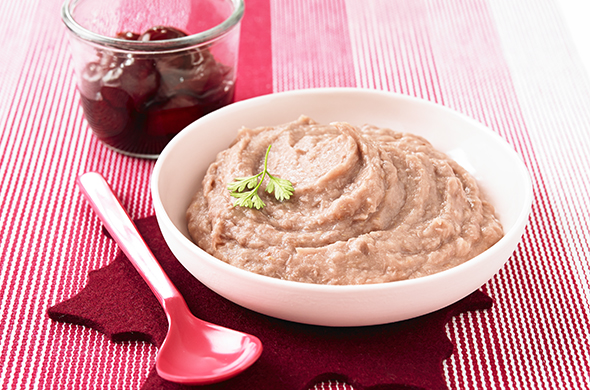 A sweet-and-sour recipe where potatoes, which are well known and tolerated, are used to introduce duck breast, which is more original, to broaden baby's palette of flavours.
The recipe
Ingredients

2 potatoes
25 g lean duck breast
10 red cherries
1 tablespoon yoghurt
1 tablespoon stock
1 sprig parsley

Preparation Time: 15 minutes – Cooking Time: 20 minutes
Peel and dice the potatoes. Wash the parsley and remove the leaves. Cut the duck into 4 pieces. Wash and remove the stones from the cherries.
Steam cook the potatoes for 20 minutes. Add the meat when there are 10 minutes remaining. Add the cherries and parsley for the last 5 minutes. When the potatoes are soft, it's ready.
Mix the cooked food with the yoghurt and stock.
Be daring!
Always get your meat from a local farmer or choose one with a label that ensures quality.
You can replace the duck with other kinds of poultry: chicken or turkey. The cherries can be replaced with 2 small dried plums that have been softened in warm water beforehand.