Food's cooking time for the Nutribaby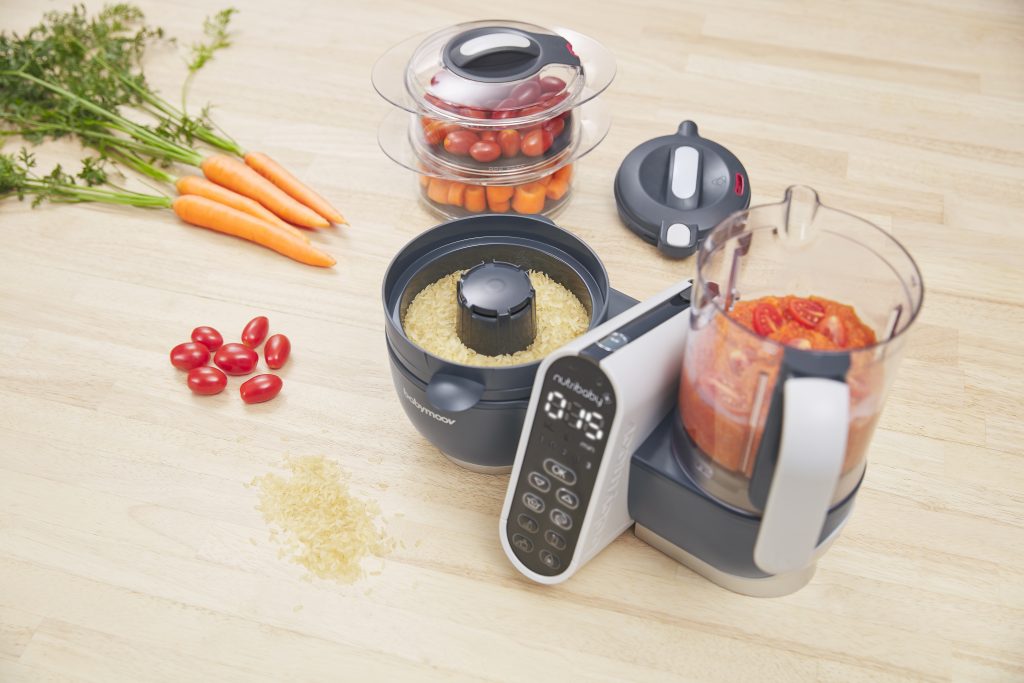 The « Cooking babyfood » blog stems from Babymoov's desire to make parents' life easier while weaning their child onto food. So you will find a number of 100% original recipes designed and tested by our teams and by MamanChef, as well as advice on the baby's diet, fact sheets on food you can give to your baby, etc.
It is also in this sense, to support you in preparing meals for your baby, that Babymoov developed Nutribaby. Part of this blog is also dedicated to this food processor and how to use it.
Also, as many of the readers of the blog have asked us, in this article we give you the food's cooking time to use Nutribaby. These times are meant as an indication only and may vary depending on the amount of food you cook and your taste or the baby's taste. Therefore, reduce or increase the cooking time by 1 or 2 minutes if you want to.
| | | |
| --- | --- | --- |
| Food | Amount | Cooking time |
| potatoes | 300g | 15-17 min |
| carrots | 200g | 16-20 min |
| turnips | 200g | 18-20 min |
| French beans | 250g | 20-25 min |
| courgettes | 300g | 10-12 min |
| leeks | 200g | 8-10 min |
| fresh peas | 400g | 20-25 min |
| cauliflower | 200g | 18-20 min |
| artichokes | 1-2 | 20-25 min |
| asparagus | 300g | 17-20 min |
| broccoli | 200g | 12-15 min |
| celery | 200g | 14-16 min |
| fresh champignon mushrooms | 250g | 12-15 min |
| spinach leaves | 300g | 10-14 min |
| onions | 100g | 8-10 min |
| aubergines | 200g | 15-17 min |
| apples | 200g | 12-14 min |
| pears | 200g | 8-10 min |
| strawberries | 200g | 8-12 min |
| apricots | 200g | 8-10 min |
| peaches | 200g | 8-10 min |
| white fish (cod) | 200g | 6-8 min |
| prawns and shrimps | 200g | 3-7 min |
| king scallops | 100g | 6-10 min |
| tuna steak | 200g | 12-14 min |
| salmon steak | 200g | 12-14 min |
| mussels | 500g | 14-18 min |
| chicken | 180g | 15-18 min |
| pork | 120g | 10-12 min |
| lamb | 150g | 8-12 min |
| beef | 120g | 8-10 min |
| soft-boiled egg | | 5 min |
| hard-boiled egg | | 12-15 min |