Cracked Bulgur wheat and baby vegetable curry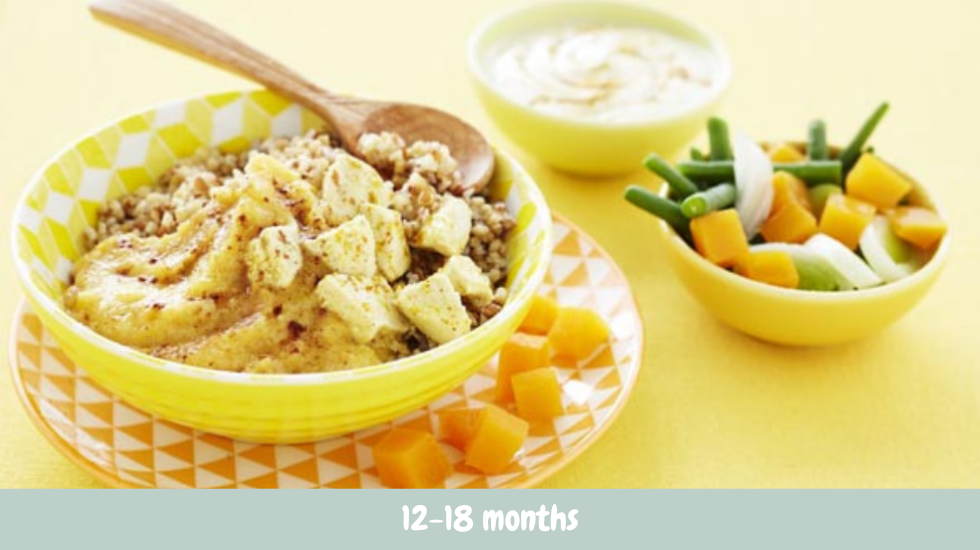 Ingredients
For the recipe
25 g precooked crushed durum wheat
2 tablespoons coconut or cow's milk
a pinch of curry powder
2 pinches of turmeric
a pinch of cinnamon
150 g assorted vegetables: carrot, fennel, leek (white part), purple top turnip, French bean, pumpkin
20 g chicken breast
Recipe
Preparation time: 20 minutes – Cooking time: 25 minutes
Using a Babybol* or a small jam pot, cover the wheat with double its amount of water. Place the bowl in the top basket of your Nutribaby. Just leave it to swell without starting the cooking cycle.
Pour the cream into a small bowl and add the turmeric, curry and cinnamon. Mix and leave the spices to infuse.
Clean and cut the vegetables up small. Put them into the second steaming basket.
Now the wheat has soaked, cover it again with as much water. Start a 20-minute cooking cycle with the 2 baskets.
After 15 minutes is up, add the chicken to the basket with the vegetables to cook for the remaining 5 minutes.
When the wheat and vegetables are soft, combine them with the spicy cream. Add a little cooking juice if necessary.
  + idea
Depending on your baby's teeth, you can either blend just the vegetables with the spicy cream and serve the wheat and chicken in small pieces or blend everything together. So that baby can distinguish the different flavours, blend the wheat with the cream and the vegetables with the cooking juice, for example.