Vanilla flavoured pear with couscous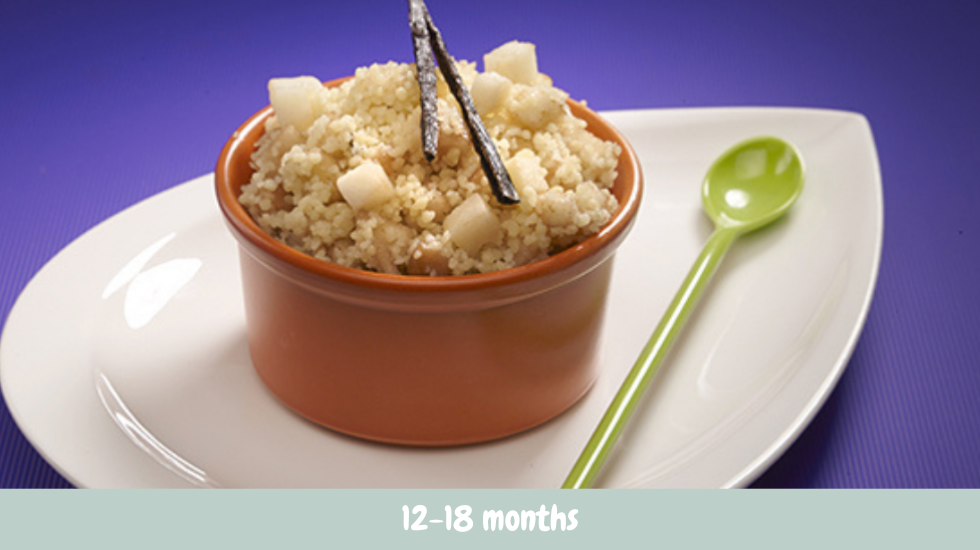 Ingredients
For the recipe
1 medium-sized pear
2 cm of a vanilla pod or a teaspoon of vanilla flavoured sugar
a pinch of cinnamon
30 g medium or fine grain couscous
a knob of butter
Recipe
Preparation time: 15 minutes – Cooking time: 15 minutes
Peel the pear and cut it into small pieces. Split the vanilla pod down the middle and scrape out the seeds. Put the bits of pear with the vanilla pod and seeds and the cinnamon into an aluminium foil papillote that you put into the basket of your Nutribaby. Start a 10-minute cooking cycle.
Meanwhile, boil some water and cover the couscous grain that you've put in a bowl. Cover with a saucer and leave to swell for 10 minutes.
Fluff the grains with a fork and then separate them with your fingers while dropping them into the second basket of the steamer. Steam them for 5 minutes.
Mix the couscous grain with the butter, the bits of pear and their juice in baby's bowl.
  + idea
To prevent the couscous grain from sticking in the holes of the steaming basket, you can line the basket with a teacloth or a clean napkin.
Be daring!
The knob of butter makes the dish even more delicious because the butter coats the couscous grain making it creamier and bringing out the flavour.